2nd International Research Symposium
Uva Wellassa University (UWU), which has engraved unique features in Sri Lankan higher education sector, leads the theme of value addition to national resource base. Taking the pride in producing well rounded graduates to the nation, UWU has developed innovative solutions to bridge the gaps in the knowledge among undergraduates.
With the expectation of contributing to the country's sustainable development, UWU opened its 2ndInternational Research Symposium under the theme of "Emerging Technologies for an Innovative Green Economy", which was held in February 1-3 2018, at UWU premises, encouraging researchers to discuss, share and disseminate research findings in this high forum of intellectualities actively engaged in keeping footprints in the journey of Sri Lanka's sustainable development and regaining economic prosperity.
Chief Guest
Guest of Honour
Keynote Speakers
Symposium Themes and Award Winners
Chief Guest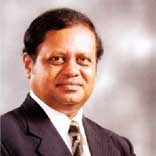 Hon. A. D. S. Premajayantha is a member of parliament of Sri Lanka representing Colombo District, graduated from University of Colombo receiving Bachelor of Law in 1982 and pledged as an Attorny at Law in 1984. He obtained Masters in Public Administration from the University of Sri Jayewardenepura in 2004. As a politician, Mr Premajayantha has been presiding ministerial posts in education and technology related ministries since the beginning of his career as a member of parliament. For the first time when he was elected to the parliament in 2000 representing Gampaha District, he was offered the chair of Ministry of Education. Then he became theof Minister of Power and Energy in 2004 and followed by being the Minister of Petroleum Industries in 2010. Then Mr Premajayantha received as new ministry, which is still in technology related, he was appointed as the Minister of Environment and Renewable Energy in 2013. Since 2015, he has been the Minister of Technology and Research.
Guest of Honour
Keynote Speakers
Symposium Themes and Award Winners